Recipe Secrets
I get a lot of requests for recipes and this recipe for Bacon Wrapped Dates is by far one of the most requested ones.
I look for recipes throughout the year to add to the appetizers. I keep a log (in my notebook) what was gone, what I had a lot left over of, how much I made, how may red wines and white wines were used, etc.
Make it as easy as possible on yourself by keeping notes from year to year and enjoy!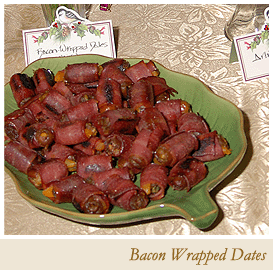 BACON-WRAPPED DATES
Makes 32: Serves 8 to 10
32 pitted dates (about 10 ounces)
2 ounces shelled, salted whole pistachios
2 ounces dried apricots, cut into 32 strips
1 pound lean best-quality bacon, thinly sliced and then halved crosswise (I use turkey bacon)
1. Preheat oven to 450 degrees. Stuff each date with 3 or 4 pistachios. Lay a stuffed date and apricot strip on top of each bacon slice; wrap to enclose. If not using immediately, freeze up to 1 month.
2. Transfer to a rimmed baking sheet. Bake until bacon is crisp, about 10 minutes, flipping each wrapped date after 8 minutes. If frozen, bake at 400 degrees for 10 minutes; flip, and bake 10 minutes more. Transfer wrapped dates to paper towels to drain. Serve with toothpicks.